Greña es una historia escrita por Kianny Antigua e ilustrada por Vanessa Balleza que ha sido reconocida como uno de los mejores libros del año 2017 en LatinoAuthor.com
Un libro de edición limitada que lo puedes conseguir directamente con la autora atraves de su blog kiannyantigua.blogspot.com
Top Ten Best Children and Teen Books for 2017
1) Agua, Aguïta / Water, Little Water by Jorge Tetl Argueta. Illustrator Felipe Ugalde Alcántara. Piñata Books.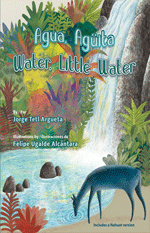 "My name / is Water / but everyone / calls me Little Water." This book is written in such masterful poetic energy, which describes the life cycle of water. The message is captured in English, Spanish, and Nahuat. The author illustrates how water is born, how it surfaces through light and darkness, and finally where it ends up within our earth. It is a stunning way to show children the importance of this great asset we get from our earth and how necessary it is to make our world survive. The illustrations are beautiful and capture the essence of the book's message and also nature. It is an encouragement for children to be aware of all that the world provides and our connection to life.
2) El mejor regalo del mundo: la leyenda de la Vieja Belén / The Best Gift of All: The Legend of La Vieja Belen by Julia Alvarez. Illustrator Ruddy Núñez. Santillana USA – Loqueleo Publisher.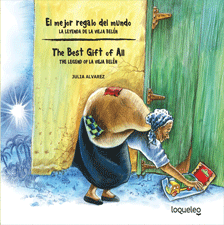 Again, the renowned Latina author Julia Alvarez takes on the myth of the Dominican folk character 'La Vieja Belen' and turns it into an enchanting rhyming story. The beautiful illustrations are an addition to this bilingual book. The magic only continues with Ms. Alvarez's great art of storytelling and quantifies what many of us already know, 'Of all the gifts you can give, your time is the best.'
3) Owl in a Straw Hat: El Tecolote del sombrero de paja (English and Spanish Edition) by Rudolfo Anaya. Illustrator El Moisés. Translator Enrique R. Lamadrid. Museum of New Mexico Press.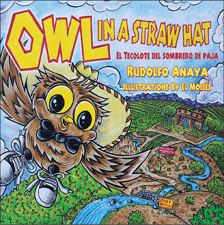 Anaya again delights us with a masterfully written children's book. It is about a young owl named Ollie who resides in an orchard with his parents. Location? None other than Northern New Mexico as Mr. Anaya's writings usually capture the state of New Mexico where he resides. The story is centered around Ollie preferring to hang out with his amigos Raven and Crow instead of attending school. When Ollie's parents discover that their son can't read, they send him off to his grandmother. On his journey he encounters several seedy characters and the story takes a turn. Ollie begins to realize why he needs to attend school and its importance. A truly delightful story – even for adults.
4) Pele, King of Soccer/Pele, El Rey del Futbol by Monica Brown, Rudy Gutierrez Illustrator. Imprint of Harper Collins Publishers.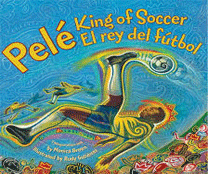 The Kirkus review called this an "inspiring blend of art and story," and I agree. The author and illustrator teamed up to tell the story about the most famous soccer star in the world, Pelé. It is a book that will not only teach and inspire, but provide a learning experience for your child as they turn the pages of this masterfully written book. If your child isn't a fan of soccer, they will be. It is the true story of a poor boy from Brazil who went on to become one of the biggest stars and living legends in soccer. In addition, Mr. Gutierrez's illustrations contribute to making this a stunning story.
5) Abuelo vivía solo / Grandpa Used to Live Alone by Amy Costales. Illustrator Esperanza Gama. Piñata Books.
The author does an amazing job of capturing a young girl's relationship with her grandfather and how the roles ultimately change as they age. Ms. Costales has done an excellent job of incorporating daily lovely details that bond the young girl and her grandfather. The story encapsulates the experience that many of us have gone through or will undertake as we grow older, and also the importance of relationships. What a great story and a beautiful way to show children the significance of family!
6) Celebra Kwanzaa con Botitas y sus gatitos / Celebrate Kwanzaa with Boots and Her Kittens (Cuentos para celebrar / Stories to Celebrate by Alma Flor Ada and F. Isabel Campoy. Illustrator Valeria DoCampo. Santillana USA (Loqueleo) Publisher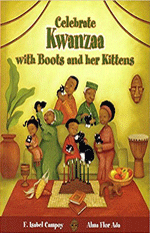 The author has captured a great way to show children one of the many celebrations throughout the world that are not necessarily within their realm of experience. It begins with a family off on a quest to locate their cat and the story then turns into a fun and informative illustration on what Kwanzaa is about. A great introduction to children on the many customs celebrated throughout the world.
7) Greña/ Crazy Hair by Kianny N. Anigua & Illustrations Vanessa Balleza.
An adorable story about a little girl and her curly hair. A great story that touches on great self esteem for children. Simple, short, but effective.
8) Mayanito's New Friends/ Los Nuevos Amigos De Mayanito by Tato Laviera. Illustrator Gabhor Utomo. Piñata Books.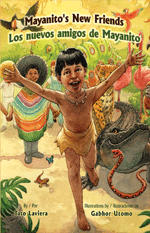 This book captures a young Mayan prince's fantastical journey through the jungle on a quest to find his newfound friends that were created from raindrops and then disappeared. It will take your child on a jungle trip that will give them insight into a whole new world. This is such a fun book for children aged 5 to 10 and the illustrations are amazing and entertaining. What a great way to connect your child to a jungle trip without leaving your house!
9) Salsa by Jorge Argueta. Ilustrator Duncan Tonatiuh. Groundwood Books.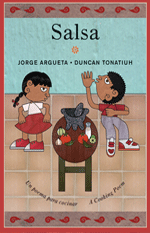 What a great way to show your child how to cook! Mr. Argueta uses a children's book to provide a fun and easy recipe to make salsa. The characters involve a brother and sister grinding all the ingredients by using a molcajete, which is a stone grinder used to grind spices and chili. Not only does he provide children with a recipe, but he also introduces them into a different cooking culture using singing and dancing to make it that much more enjoyable.
10) Up (I Like to Read®) by Joe Cepeda. Holiday House; Reprint edition.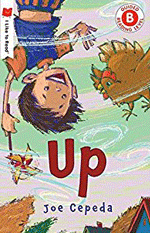 his book only includes 12 simple words, but it packs a punch. It is the story of two brothers who are asleep when a pinwheel flies in through their window. The younger brother uses the pinwheel to fly him on a journey where he witnesses the many wonders of nature, the farm, and animals. The pinwheel is then passed on to his brother to continue the ride. A great fantasy for the youngest of audiences.